The nonpartisan, nonprofit Wisconsin Watch increases the quality and quantity of investigative reporting in Wisconsin, while training current and future generations of investigative journalists. Its work fosters an informed citizenry and strengthens democracy. That's why you're welcome to republish our original articles and multimedia for free under a Creative Commons Attribution-NoDerivatives 4.0 International License and using the following ground rules. Please let us know if you republish our stories; we track the distribution of our stories.
You will see this "Republish This Story" button on the side and bottom of all our news stories. Feel free to use the button to copy and paste the code of our stories onto your site.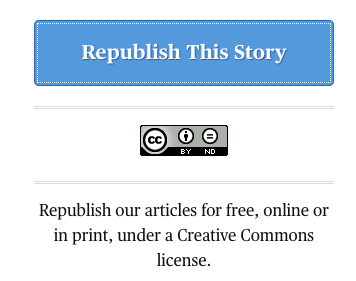 (If you are an authorized media partner with password-protected access to our Partner Downloads page, please review our separate publication guidelines for approved partners. To apply to become an approved media partner, please fill out this form or contact cdukehart@wisconsinwatch.org)
Story and multimedia republishing rules
You may republish any story with "Wisconsin Watch" in the byline.
You may republish any partner story that shows the blue "Republish This Story" button on the story page.
You may NOT republish material from the Associated Press, ProPublica, or any story where you do not see the "Republish This Story" button at the bottom of the page.
Editing material is prohibited, except to reflect relative changes in time, location and in-house style (for example, using "Waunakee, Wis." instead of "Waunakee" or changing "yesterday" to "last week")
Credit should be given, in this format: "By Dee J. Hall, Wisconsin Watch"
If published online, you must include the following language, with a link to the original story, like this:
This story [link to Wisconsin Watch story] was produced by Wisconsin Watch.
If you share the story on social media, please mention @wisconsinwatch (Twitter, Facebook and Instagram), and ensure that the original featured image associated with the story is visible on the social media post.
Don't sell the story or any part of it — it may not be marketed as a product.
Don't extract, store or resell Wisconsin Watch content as a database.
Don't sell ads against the story. But you can publish it with pre-sold ads.
Your website must include a prominent way to contact you.
Additional elements that are packaged with our story must be labeled.
Users can republish our photos, illustrations, graphics and multimedia elements ONLY with stories with which they originally appeared. You may not separate multimedia elements for standalone use.
If we send you a request to change or remove Wisconsin Watch content from your site, you must agree to do so immediately.
For questions regarding the Wisconsin Watch republishing rules, or if you are a journalist or news organization that wants to become an approved media partner, please contact Coburn Dukehart, Associate Director, at cdukehart@wisconsinwatch.org