Reading Time:
8
minutes
This story is part of a collaboration between Wisconsin Watch, Milwaukee Neighborhood News Service and The Appeal.
Click here to read highlights from the story

JusticePoint, Inc. provides assessments, screenings and referrals to treatments or community service for Milwaukee residents facing civil violations such as illegal parking or loitering. It says it has served 11,000 clients in the past eight years.
JusticePoint administers Milwaukee's Court Alternatives Program, launched in the 1980s as awareness grew about "debtor's prisons" within the city's criminal justice system.
Without offering public comment or lining up an alternative provider, Municipal Court officials sought to cancel JusticePoint's contract in mid-July — apparently due to the organization's practice of sharing citations with Legal Action of Wisconsin attorneys.
JusticePoint sued the city on July 10. A judge's order allows JusticePoint's services to continue as the dispute unfolds in court.
Four decades ago, a newspaper investigation described Milwaukee's municipal legal system as "cash register justice." Thousands of impoverished residents with mental health or substance use issues languished in county jails due to unpaid civil violation fines, costing taxpayers hundreds of thousands of dollars.
Responding to the outcry from The Milwaukee Journal's 1985 investigation, the city stopped automatically jailing residents who failed to pay civil fines and expanded its Court Alternatives Program. As a result, Milwaukee sent people like Sue Eckhart to court, where they could help low-income residents and those with mental health problems by offering alternatives to incarceration.
Eckhart has managed the alternatives program for decades, providing assessments, screenings, and referrals to treatments or community service for those facing civil violations, such as illegal parking or loitering.
Since 2015, the program's vendor, currently JusticePoint, Inc., has served 705 people with mental health issues, 80% of whom resolved their cases without paying a fine, wrote Eckhart, the organization's program director, in an email to Wisconsin Watch, Milwaukee Neighborhood News Service and The Appeal. The nonprofit says it's served 11,000 total clients during the last eight years.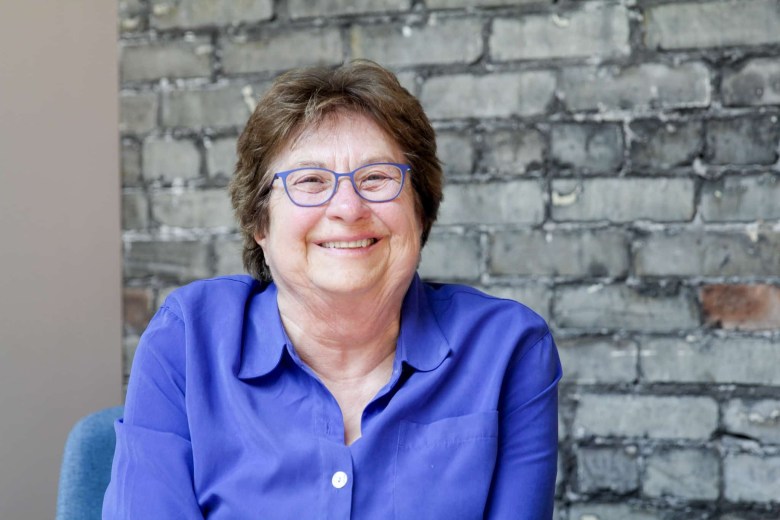 Although the organizations providing those services changed over time, the core staff — Eckhart and her colleagues — stayed put. But in May, Eckhart suffered a "gut punch" when the city terminated her organization's contract before it expired in 2024.
Officials provided little explanation as to why and did not line up another vendor to take over what many see as vital work to curb mass incarceration.
"I never saw that coming at all," Eckhart said in an interview.
In a last-ditch effort to seek answers, JusticePoint sued the city on July 10 — a day before the city's cancellation took effect. A Milwaukee County Circuit Court judge quickly granted a temporary restraining order, allowing JusticePoint's services to continue as the dispute unfolds in court.
But the prospect of eliminating — and not replacing — JusticePoint's services has stirred confusion and deep concerns among those serving some of Milwaukee's most vulnerable residents.
At a time when numerous states and cities are taking steps to reduce pretrial detention, advocates in Milwaukee say attempting to halt the city's court alternatives program is a step in reverse.
"It is shocking that Milwaukee Municipal Court would suddenly cancel the contract for such an invaluable program," wrote a coalition of 24 local organizations in May after the Milwaukee Journal Sentinel first reported the city's plans. They added that the court had provided no information on what would happen to the hundreds of people JusticePoint currently serves.
One of JusticePoint's clients is Quintin Walls, a 42-year-old father of six, who owed $100 for a civil violation. He has received services from the organization three times now, starting when he received parking tickets while living in his car. Over the years, the organization connected him to community service to pay off his fines and to resources that led him to secure housing.
The coalition urged the mayor and the city's Common Council to save the program, but officials say neither has control over the contract. The council funds but does not oversee the program, allocating $487,000 for JusticePoint's services this year.
Two Municipal Court judges, Phil Chavez and Valarie Hill, recommended terminating the contract before a third judge, Molly Gena, was elected in April, city officials said during a June Common Council subcommittee meeting. It would have been illegal and unenforceable if the council had directed the court to rescind the termination notice, Assistant City Attorney Kathryn Block said at the subcommittee meeting.
Alderman Jonathan Brostoff, who represents the city's East Side, called the court's decision "fishy" and "quite troubling."
Brostoff and Alderman Michael Murphy, who represents Milwaukee's West Side, later told Wisconsin Watch they were concerned about the court's lack of transparency.
Court officials declined to answer questions from Wisconsin Watch, Milwaukee Neighborhood News Service and The Appeal, citing the pending lawsuit.
A spokesperson for Milwaukee Mayor Cavalier Johnson declined to comment for this story, but added that Johnson "was not involved in any decision-making" regarding the contract.
Nick Sayner, JusticePoint's co-founder and chief executive officer, said he's troubled by the lack of transparency from officials.
"The court's silence and the city's silence tells you that you should be concerned that there's something else going on here," Sayner said.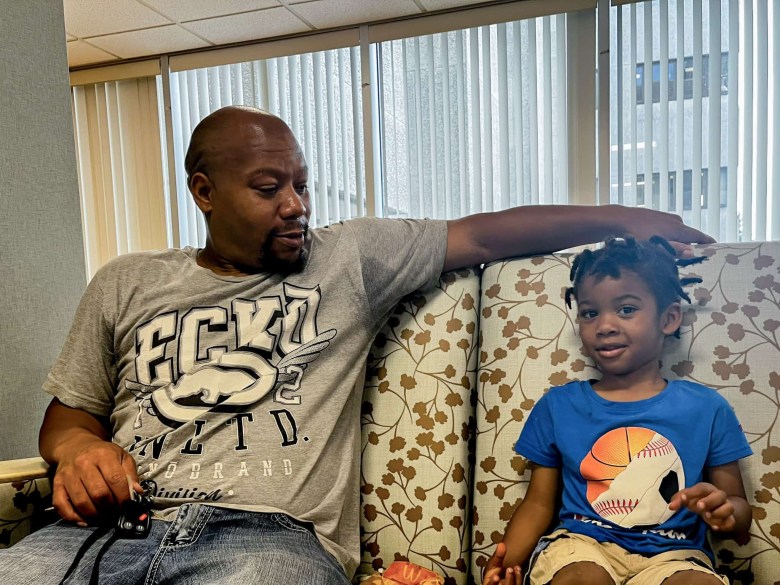 Judges 'lost faith' in JusticePoint
Judges Chavez and Hill told Chief Court Administrator Sheldyn Himle they "lost faith" in JusticePoint over the longstanding practice of sharing citations with attorneys at Legal Action of Wisconsin, a nonprofit that provides free legal services to people with low incomes, according to a May 15 email between Sayner and Himle.
The city attorney's office had advised JusticePoint to share citations during pilot phases of a program to help people with low incomes find legal representation, Sayner wrote to Himle.
"It is not clear to me how we were to know we should have ceased this activity prior to receiving your feedback," Sayner wrote. "Once we were notified by your office to end this activity, we stopped providing that information immediately."
Sayner also told Himle that JusticePoint hadn't received broader feedback from the court for several years, but was open to it as long as the program's principles remained consistent.
Legal Action of Wisconsin attorneys were not aware of any past issues with sharing citations, said Susan Lund, an attorney with the nonprofit. Her firm receives identical copies of citations through police department open records requests and said she did not know why JusticePoint's information sharing would be a problem.
(Legal Action of Wisconsin separately sued the Municipal Court in July, alleging the court failed to record hearings on judgments and case reopenings as required by state law.)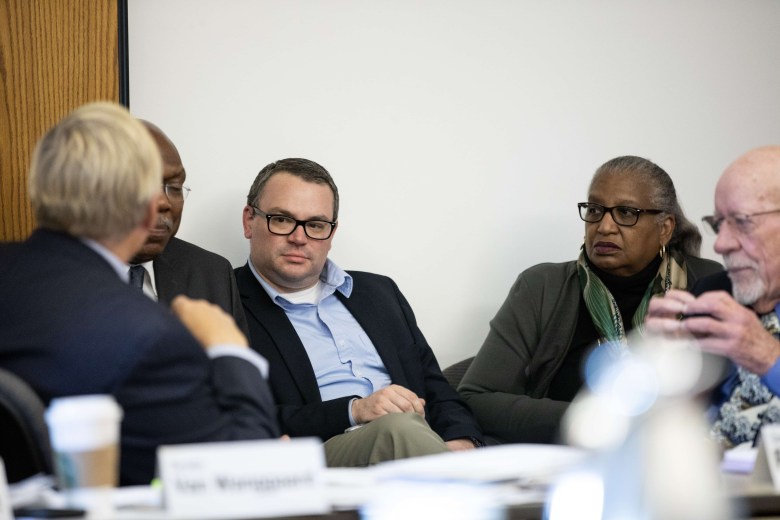 In a May 15 letter, the city's purchasing department informed Sayner it was terminating JusticePoint's contract, effective July 11. JusticePoint had not delivered unspecified "possible solutions" following a May 5 meeting, the letter said.
Eckhart, whose office sits on the second floor of the Municipal Court building, said she was mortified upon learning the news.
"'Oh, my God, what are our clients going to do?'" she said she thought.
The city terminated the contract under a "convenience" clause, rather than for cause, allowing it to be canceled for any reason as long as the city gave JusticePoint 10-days written notice. If it had terminated for cause the city would have had to give JusticePoint 30 days to fix any alleged deficiencies.
"At no point was JusticePoint informed that failure to respond with possible solutions would result in the termination of the contract," Sayner and fellow co-founder Edward Gordon wrote to the purchasing division.
Plan to replace JusticePoint's services is unclear
Speaking at a June subcommittee meeting, Himle said the court planned to continue the Court Alternatives Program without JusticePoint. She did not clearly answer how that would happen without a new contractor.
"The judges have made some decisions on how to continue as best they can through referrals they may make," Himle said.
James Gramling, Jr., a retired Municipal Court judge, said in an interview it was unreasonable to expect judges to make such assessments from the bench, particularly in cases unfolding on Zoom.
"The judges seem to think they're going to be able to identify from the bench people that have addiction, mental health issues and refer them to some agency. Good luck with that — it's not workable," Gramling said.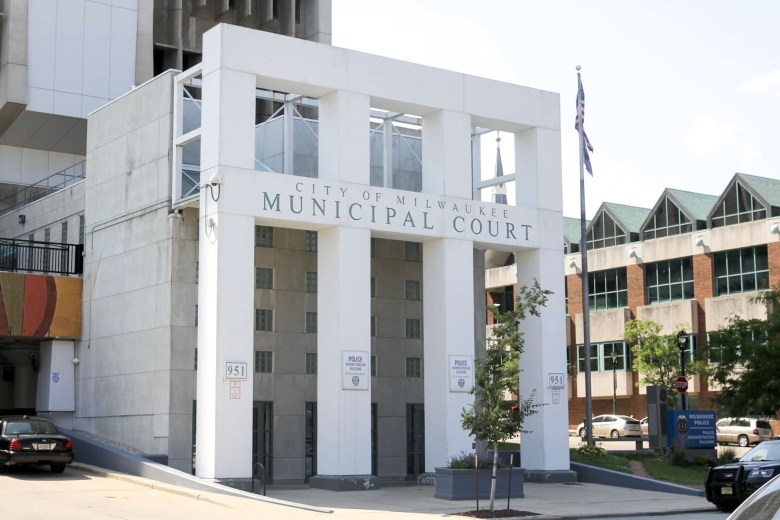 As a judge, Gramling would assess the needs of defendants and then rely on one of Eckhart's case workers to perform a full screening outside of the courtroom, Grambling detailed in a letter to the Common Council. Defendants would often be directed to perform community service or receive counseling or treatment.
"Many thousands of people are processed without individual treatment by the court," Gramling wrote. "And many of those defendants are disadvantaged members within our community: the poor, those addicted to drugs and alcohol, those suffering from mental health issues."
Nearly 60% of JusticePoint participants participate in community service. The program's alcohol and substance abuse program serves more than 90% of participants, as do its mental health services, according to the city budget.
Gena, the newest of the three Municipal Court judges, said terminating JusticePoint's contract would make her job "a lot harder." Speaking at the June meeting, the former Legal Action of Wisconsin managing attorney said she could order people to pay fines but can't address root causes that will send many people back to court.
"It was indicated that maybe the other judges have a plan — I don't," she said.
JusticePoint's lawsuit argues termination lacked good cause
In its lawsuit, JusticePoint argues the city violated the Wisconsin Fair Dealership law, which protects "dealers" — typically business owners — whose economic livelihood could be imperiled by "grantors," who, through a contract, grants dealers the ability to sell or distribute goods or services. The law prohibits a grantor from terminating a relationship with a dealer without good cause, proper notice and the ability to fix any issue at hand.
"The City seeks to terminate — abruptly, unilaterally, and without good cause — JusticePoint's relationship with the City," the lawsuit argues. "Worse yet, the City has not contracted with another vendor to provide these critical services to the people of Milwaukee."
The Circuit Court granted JusticePoint a temporary restraining order to maintain its contract as the case plays out. A hearing on that order is scheduled for October 5.
'Thank you for being so kind to me.'
Eckhart has collected countless stories of people her colleagues have helped over the decades. She recalled one man who bathed in a pond outside of the Municipal Court building and had racked up many citations while struggling with alcoholism. Eckhart's team connected him to a treatment service and resolved his tickets.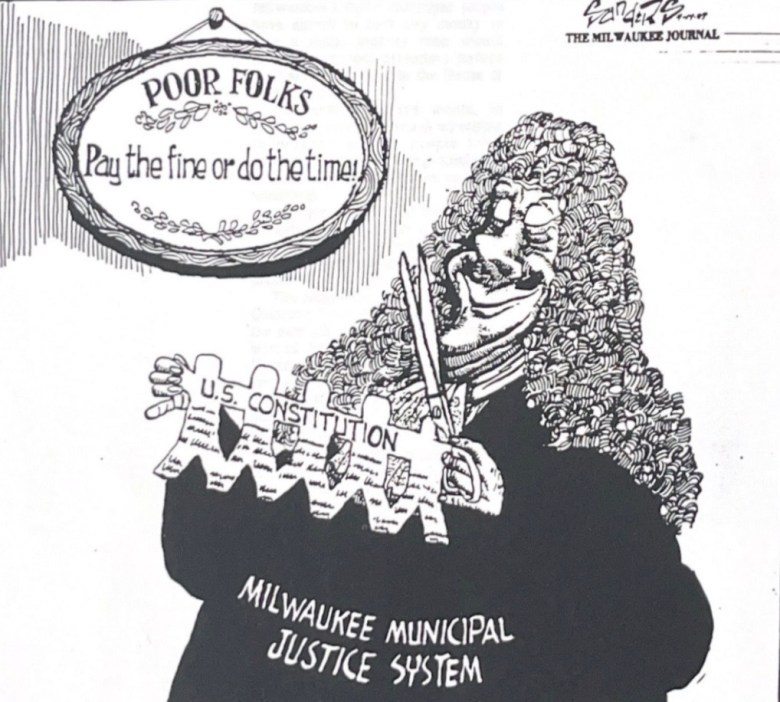 She said she later saw him with frostbite on his feet during the winter and gave him a pair of heavy socks. He later returned to thank the team.
"And I'll never forget that," Eckhart said.
Then there was Theodora Athans, whose photo appeared in The Milwaukee Journal's 1985 "Justice Denied" series that revealed how the court created "debtor's prisons" within the Milwaukee County's criminal justice system.
Athans lived with schizophrenia and the Milwaukee County Circuit Court found her to be a "danger to herself."
But Eckhart said her team found Athans housing and the woman later volunteered for the alternatives program.
"Thank you for being so kind to me," Eckhart recalled Athans later saying when Eckhart visited her while she was sick in the hospital.
"The people we help, I don't think would get help anywhere else," Eckhart said, "and that's the part that bothers me."