Reading Time:
8
minutes
Click here to read highlights from the story.

Staffing shortages at northeast Wisconsin senior living facilities in northeast Wisconsin and statewide are leading to dangerous conditions for residents. State regulators collected nearly 2,300 complaints against such facilities in 2022, a 17% increase from the previous year.
Some residents go without medications, basic care or are under the care of poorly trained staff members.
Inflation, rising costs and chronically low Medicaid reimbursement rates have left providers struggling to attract and retain workers, causing an increasing number of facilities to close or evict residents relying on Medicaid.
By 2030, one in four Wisconsinites are expected to be of retirement age, only increasing pressure on the struggling senior care industry.
Shelley Peel moved into Apple Creek Place in Appleton, Wisconsin nine months ago.
Apple Creek Place advertises itself as a facility with 22 beds and care options tailored to those who are physically disabled and those with dementia or Alzheimer's. But Peel said that's not her experience.
Peel, 61, said she's lucky if she can get a shower once a week. Someone is scheduled to help her go from her wheelchair to the bathroom for a shower every Monday and Thursday, but usually a staff member is not around to assist, she told USA TODAY NETWORK-Wisconsin.
"They're supposed to help me a lot more than they do," Peel said.
It's a problem the new owners of Apple Creek say has been fixed. Cornerstone Management took over Apple Creek Place in December, a couple months after Peel became a resident in September, and were able to fill all the job vacancies, said Rebecca Rutgers, a spokesperson for Cornerstone.
Peel disagrees. Between showering, cleaning her room and the bathroom, and the laundry not getting done, Peel said she regularly goes without getting everyday chores done because staff is not around. Sometimes it's taken between 30 and 45 minutes for someone to come when she calls for help, she said.
"I can ask and beg and plead until I'm blue in the face," she said. "They say, 'We don't have time. We're understaffed.'"
Many residents are struggling to get their needs met at other senior living facilities, as well, according to state health inspection reports. The staffing shortage has turned into a crisis around the region, leading to dangerous conditions at several nursing homes and assisted living facilities. Complaints coming in to the state Department of Health Services about the conditions at senior living centers are surging to numbers not seen in recent years, as residents sometimes go without medications, basic care, or are under the care of staff members who are not trained to provide support to such vulnerable people.
Without staff, residents don't get showers, medications, help with transfers, everyday care
After receiving two complaints regarding the provider, DHS inspected one of Apple Creek Place's buildings in November — prior to the ownership change — and found 18 deficiencies. Peel said she contacted Appleton police about her experiences but has not filed any official complaints with DHS.
DHS inspectors found that three caregivers were not trained in fire safety and first aid, and gave residents medicine without proper training in administering them. Two of them were not trained on how to respond to "challenging behaviors," including residents who wander outside the building, and suicide prevention, according to the report.
Two residents' records showed they missed doses of regular medications, according to the report.
Inspectors also noted there were not enough employees at the facility to take care of all the residents in the building, with sometimes just one caregiver in the building to take care of everyone.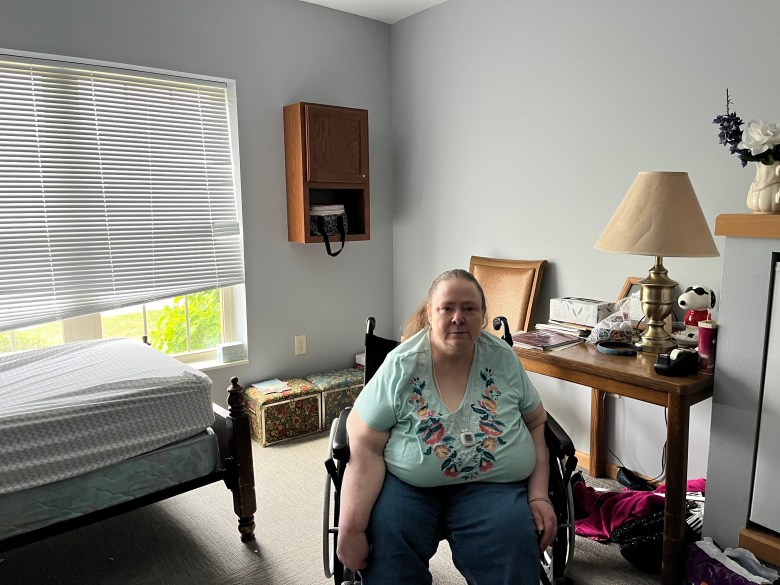 Since the DHS inspection in November, Apple Creek Place isn't facing any of the problems cited by DHS, Rutgers said. Part of that is because the facility has a full staff now, she said. Nursing homes are required to report their staffing numbers to the federal government but assisted living do not share the same guidelines. As of July 5, Cornerstone's careers site did not have any current job openings at Apple Creek Place.
"Things are going much much better," Rutgers said. "Staffing levels are improving."
Still, Peel said it sometimes can take up to an hour for someone to check on her after she uses her call alert necklace because all the employees are taking care of other residents.
"One time it was almost two hours," Peel said. "I peed my pants. I was so scared."
The incidents are becoming more frequent in nursing homes and assisted living centers all around the state and advocates are saying it's only going to get worse.
Melanie Cairns, an attorney with Disability Rights Wisconsin, said the number of complaints about similar concerns is on the rise in senior care facilities, and increasing in their level of severity. This includes resident abuse, neglect, and serious rights violations, she said.
Disability Rights Wisconsin has noticed growing concerns about delays in getting medications, not enough available staff trained to administer meds, less assistance, or delays with daily living tasks such as showering, toileting and meals. Residents are also not getting help with transfers or lifts.
"Many of those, if not all, are directly related to staffing shortages," Cairns said.
At Century Oaks of Appleton, an assisted living center at 2300 E. Glenhurst Lane, one resident died from injuries sustained in a fall while trying to get out of bed, according to a DHS report in April.
On Dec. 15, the resident fell while trying to get out of bed to go to the bathroom around 5 a.m., the report said. The resident was taken to the ER and was diagnosed with a humerus fracture from the fall. The resident died five days later due to the fracture, according to the report.
Family members told inspectors that the resident pressed the call light, but no one came to the room for over 15 minutes so the resident decided to move to the bathroom alone. The resident's care plan required staff help the resident with toileting and getting in and out of bed overnight when they were groggy and unsteady.
Caregivers told DHS the buildings were often short-staffed and some residents missed doses of meds because no one was available to provide them. In October, a resident was not given pain meds and an order for an X-ray was delayed while the resident was in hospice care.
"Evidence demonstrates that (the resident) was not attended to and (the resident) was in pain for a number of days leading up to (the resident's) death," the report said.
Century Oaks did not respond to a request for an interview.
Complaints on the rise but inspections remain backlogged
The complaints against senior care facilities are rising to numbers not seen in recent years. In 2022, there were 2,284 complaints at assisted living facilities in the state — which include adult family homes, community-based residential facilities, and residential care apartment complexes, according to data obtained from DHS.
That's a 17% increase in the number of complaints from 2021. DHS received 1,923 complaints toward assisted living facilities in 2021 and 1,820 complaints in 2020. In 2019, the state received 1,626 complaints. Every year, most of the assisted living complaints were against community-based residential facilities.
Concerns have also been surging against nursing homes. Layered with vacant positions for inspectors and nurses, the complaints are adding to a backlog of inspections and more detrimental conditions.
To combat the years of inadequate levels nationwide, President Joe Biden is expected to announce a federal minimum staffing requirement for nursing homes this summer, but some advocates say it may not be a practical way to solving the crisis.
Meeting a more extensive daily staffing requirement will become more challenging if the number of vacancies stay the same, said Renee Eastman, the vice president of financial and regulatory services at LeadingAge Wisconsin, a statewide association of nursing homes and other long-term care providers. It may only lead to more providers ending new admissions or closing altogether if they can't meet the mandate.
"That mandate won't magically come with any additional qualified bodies," Eastman said.
"When nursing facilities take fewer admissions that generally means people are waiting in the hospital longer, which creates a bottleneck for people in communities who need acute care and also creates a bottleneck for family caregivers are who seeking to admit someone from the community," Eastman added.
Senior care not on the mend after COVID-19 pandemic
While other health care sectors are further on the road to recovery after the COVID-19 pandemic, long-term care facilities are struggling to compete.
The pandemic exacerbated many of the problems impacting senior care, but facilities were having trouble finding stability and adequate staffing levels even before 2020. Mike Pochowski, the president and CEO of the Wisconsin Assisted Living Association, said the caregiver crisis in senior care facilities has only continued to worsen.
Inflation and rising costs have made the situation more urgent after the pandemic, Pochowski said.
Certified nursing assistants and caregiver job vacancies reached nearly 30% for assisted living and nursing home providers in 2022 — more than double the shortage in 2016, according to the latest Long-Term Care Workforce Crisis report from a coalition of long-term care associations including the Wisconsin Health Care Association/Wisconsin Center for Assisted Living, Wisconsin Assisted Living Association, LeadingAge Wisconsin, and Disability Service Provider Network.
More than 25% of caregiver positions were empty in community-based residential facilities, according to the report.
"When you talk about the activities and services that a direct support professional provides, it is a very difficult job providing the most personal care to our most vulnerable people," said Lisa Davidson, CEO of the Disability Service Provider Network in Wisconsin.
The low wages and loss of caregivers have caused facilities to close or discharge residents living on Medicaid to reduce costs.
When providers are required to close, it limits options for Wisconsin's aging population to find a new place to live.
According to DHS, the closures are on the rise. In 2019, 109 assisted living facilities closed statewide. In 2020, 116 more providers closed, and between January and September 2021, 156 closed.
The number of nursing homes is shrinking statewide, too. Between 2016 and April 2021, 42 nursing homes closed, according to LeadingAge Wisconsin.
"Because of that, we're unable to care for as many people as we would like to," Pochowski said.
Funding continues to fall short
Because long-term care is not covered by Medicare, individuals often have to go through all of their savings to pay for care before they become eligible for help. In Wisconsin, Family Care is a state Medicaid program created in 1999 for the elderly and adults with disabilities. After a resident's financial resources run out, Family Care kicks in to cover the costs of the facility.
As Wisconsin ages, the demand for long-term care options will only become more pressing as the "Silver Tsunami" moves into community living centers or nursing homes. If conditions don't improve, the region's elderly will only become in even more danger.
But Medicaid reimbursements to providers, historically, are too low to support the costs of an assisted living facility or nursing home, leading some to discharge Medicaid residents because keeping them is no longer financially possible.
In Green Bay, the average cost of an assisted-living room is $4,450 per month and $9,824 for a private nursing home, according to the American Association of Retired Persons. In Appleton, it's about $5,137 per month for residence at assisted living and $9,581 for a private nursing home.
At Agape, a residential support service based in Appleton for individuals with developmental disabilities, their properties are facing a shortage of about 45 caregivers, said Agape CEO Dan Witt. With the aid of direct care workforce funding, Agape was able to increase pay from $9 to $14 or $15 for staff, Witt said, but it's still low in comparison.
"If you compare that to what say a high school student is able to earn in retail or fast food — $14 or $15 isn't really that competitive and our caregivers have far more responsibility than what a high school student would have," Witt said.
The Joint Finance Committee took up the Family Care budget June 15 and boosted Family Care funding to provide wage increases to caregivers. Gov. Tony Evers signed the two-year state budget Thursday, and it's a step in the right direction, Wisconsin long-term care associations said.
"As Wisconsin's workforce crisis continues many assisted living facilities face significant staffing and financial challenges," Pochowski said in a news release. "These investments are necessary to maintain quality care and services to elderly individuals and those with disabilities."
The issue of senior care only becomes more critical as Wisconsin gets older. Brown County's population of residents who were 65 and older passed 44,000 in 2022 out of the county's over 270,000 residents — increasing roughly 50% from 2010, according to the U.S. Census Bureau. In Outagamie County, the number of residents over 65 reached nearly 32,000 people in 2022.
By 2030, one in four Wisconsinites are expected to be of retirement age.
Baby boomers are aging across the state and birth rates remain low. The state Department of Administration expects the population of 65-plus Wisconsinites to grow by nearly 500,000 by 2040 and comprise nearly a quarter of the total population, up from 14% in 2010.
"Where are the caregivers going to come from to support the needs of baby boomers such as myself?" Witt said. "This could become a catastrophic shortage when the baby boomers' needs for long term care expand exponentially."