Reading Time:
7
minutes
Click here for highlights from the story.

The Wisconsin Department of Transportation plans to spend about $1.2 billion to add two lanes to a 3.5-mile segment of the I-94 East-West Freeway corridor in Milwaukee, aiming to repair the road and ease congestion.
Residents worry the addition of about 29 acres of asphalt will increase flows of stormwater into surrounding flood-vulnerable neighborhoods.
The Wisconsin Department of Transportation acknowledges the extra pavement will increase stormwater runoff. The department doesn't plan to analyze precise effects on runoff until the final design phases of a project expected to break ground in 2025.
More than 20% of households near the corridor lack a car, and expansion opponents point to volumes of research showing that widening highways can actually increase traffic volume.
Janet Haas two decades ago saw potential in a field of thistle, grass and bushes that Milwaukee County had neglected: Valley Park, nestled between the Menomonee River to the west and homes in one of Milwaukee's most racially diverse neighborhoods to the east.

"The county doesn't have any money, and they haven't had any money for years," said Haas, 65, who has lived most of her life in the Near West Side neighborhood, called The Valley or Piggsville. "One day I just decided that the thistles were as tall as I was, and I wasn't going to take it anymore."
That meant persuading her mom and a friend to join her in pulling weeds and planting bushes and flowers in the park. The Milwaukee Metropolitan Sewerage District built the park as part of a multi-million dollar project to protect the neighborhood from flooding – but, Haas said, it fell into disrepair after its completion in 2001.
Valley Park is now a meticulously maintained community gathering spot — complete with walking and biking trails, a play structure and shade trees. Residents take pride in the tidy park — evidenced by their weekly cleanup events, such as a June 22nd gathering of about a dozen neighbors.
"We all know each other, we look out for each other," said Moses Mcknight, a resident of 17 years, as children and adults moved mulch and watered flowers in the park. "We like to fix things up, and keep it that way."
But neighbors at the Thursday evening cleanup worry that a $1.2 billion plan to widen the Interstate 94 East-West Freeway corridor will disrupt their gatherings and undo progress.
I-94's six lanes stretch above the Menomonee River and run south of Valley Park — carrying commuters between downtown Milwaukee and the city's western suburbs in Waukesha County. Backed by Democratic Gov. Tony Evers, the Wisconsin Department of Transportation plans to add two lanes to a 3.5-mile segment of the highway.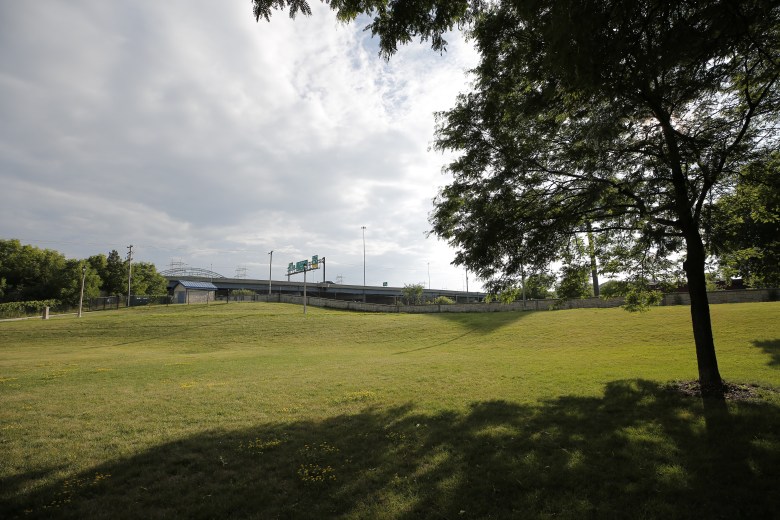 Valley Park sits in the middle of the planned expansion. Aside from increasing noise and air pollution as more cars zip down a wider highway, residents worry the addition of about 29 acres of asphalt — the equivalent of more than twenty football fields — will increase flows of stormwater into The Valley and surrounding flood-vulnerable neighborhoods.
The state transportation department acknowledges the extra pavement will increase stormwater runoff, but it says it won't analyze precise effects on runoff until the final design phases of a project expected to break ground in 2025.
"Who's going to benefit? Because it's not going to be us," Haas said. "The soil is going to be crummier and more polluted. We worked on this park, why should we give it back?"
The transportation department declined to be interviewed for this story. In an unsigned statement emailed by a spokesperson, the department wrote, in part: "We work to avoid or minimize the impacts of infrastructure improvements to the natural and human environment while delivering projects efficiently."
Flood-prone neighborhoods at center of I-94 expansion
Evers and the Wisconsin Department of Transportation want to expand the interstate to decrease traffic congestion and high crash rates, and repair aging infrastructure in what Evers has called one of the state's "most congested and dangerous roads."
Menomonee Valley Partners, a nonprofit dedicated to redeveloping the Menomonee River Valley, has praised the state's decision to proceed with the project.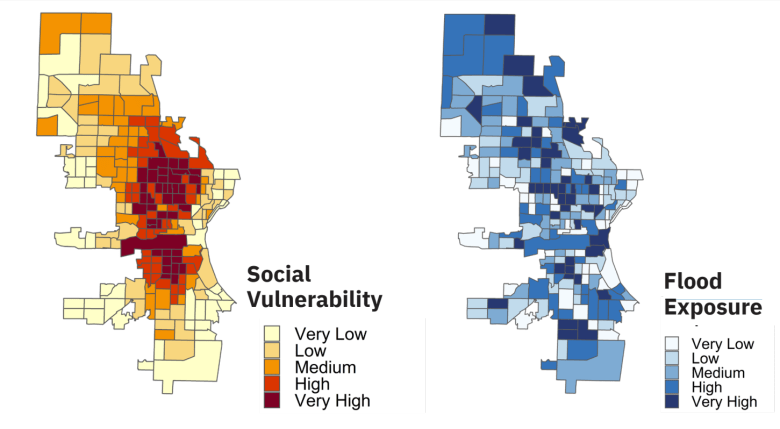 But more than 20% of households near the corridor lack a car, and expansion opponents point to volumes of research showing that widening highways can actually increase traffic volume. They say the expansion will disproportionately disrupt Milwaukee's Near West Side neighborhoods that the highway shaped six decades ago.
The expansion cuts through some of Milwaukee's most flood-vulnerable areas.
The Valley, Merrill Park and other neighborhoods north of I-94 face "high" vulnerability to flooding, according to recent mapping by the environmental advocacy nonprofit Groundwork Milwaukee, The New School Urban Systems Lab and other partners. Neighborhoods just south of the highway — including parts of the Mitchell Park, National Park and Clarke Square neighborhoods — face "very high" flood vulnerabilities, the research shows.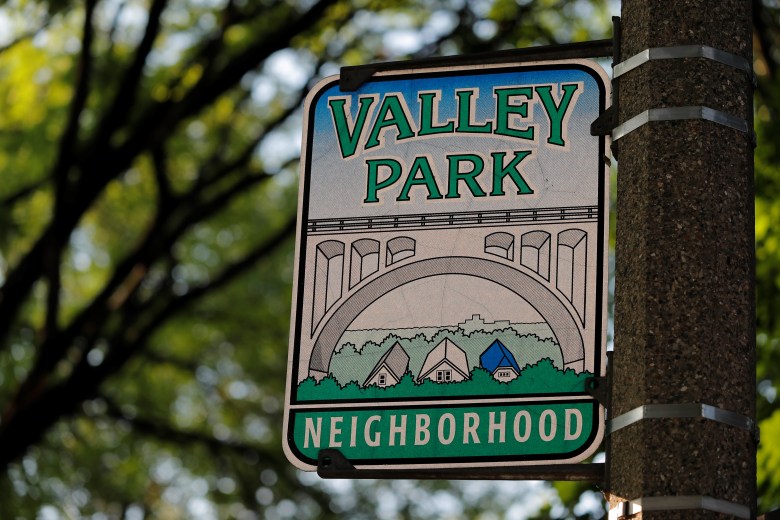 The analysis indexes flood vulnerability according to impacts on health, such as how many people lack health insurance and face certain chronic diseases; socioeconomics, including age, income and racial demographics; and housing, including the age of housing stock and portion of households lacking a car.
According to the report, The Valley faces a "medium" flood exposure level, or how likely it is to flood during heavy rainfall. But many surrounding neighborhoods — including Merrill Park to the east and parts of neighborhoods along the Menomonee south of I-94 — face a "high" risk. The analysis doesn't consider how the I-94 expansion might affect flooding.
With roughly as many white residents as people of color — mainly Black, Latino and Asian Americans, The Valley is among Milwaukee's most diverse neighborhoods. Residents of color make up larger majorities in other flood-vulnerable neighborhoods touched by the expansion. Those include Merrill Park (54% Black, 19% Hispanic or Latino) and National Park (7% Black, 73% Hispanic or Latino), according to an analysis of 2020 census data by Marquette Law School research fellow John Johnson.
Institute for Nonprofit News collaboration partners report that cities throughout the Great Lakes region are experiencing crises resulting from intense rainfall, archaic wastewater systems, crumbling infrastructure and segregated housing, creating a perfect storm of flooding vulnerability and environmental injustice. Rural areas, Indigenous communities and ecosystems in the Great Lakes also face great risk from flooding, endangering hard-fought gains in environmental restoration and community development.
Runoff analysis to come late in project
Understanding precisely how much the I-94 expansion will affect those neighborhoods requires a detailed runoff analysis, said Lawrence Hoffman, senior manager of GIS and Data Services for Groundwork USA, who helped lead the vulnerability mapping project.
In its Supplemental Environmental Impact Statement published in 2022, the state transportation department acknowledged that adding acres of impermeable pavement will increase stormwater runoff, but said "the water that would be collected from I-94 would be treated better than it is today."
The department said it won't calculate the "quality and quantity" of the runoff — and finalize solutions to address it, such as retention basins or grass-lined ditches — until the project's final design phase.
That's too late to offer such critical information — and long after the project's public comment period, which closed in January, said Cheryl Nenn, a riverkeeper for Milwaukee Riverkeeper, a self-described "science-based advocacy organization working for swimmable, fishable rivers" around Milwaukee. The state transportation department plans to include feedback from the public comment period in a final Environmental Impact Statement, expected to be released this year.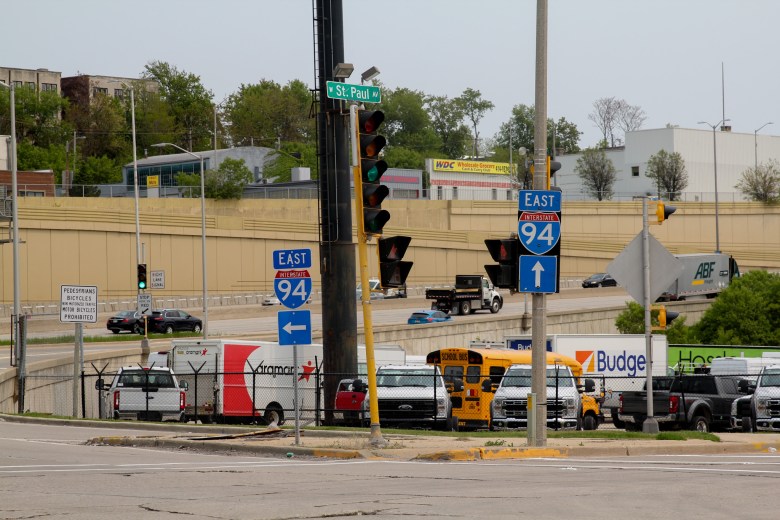 "It is frustrating, because they acknowledge there's pollution, they acknowledge that there's a litany of different things they can do to minimize that — or ameliorate those impacts, but they don't commit to anything," she said.
Milwaukee has strict local rules for minimizing runoff from new projects and redevelopments, but the I-94 expansion, as a state project, isn't bound by them, Nenn added. That includes a rule that developments above a certain size can't generate additional runoff.
"There's been a lot of really serious work to deal with flood management in the watershed, and that work continues," Nenn said. "This type of a project is going to make it harder for us to achieve our goals for clean rivers."
Milwaukee seeks to address stormwater runoff
The sewerage district has poured hundreds of millions of dollars into flood control along watersheds, with a goal of reducing sewage overflows and basement backups to zero by 2035. That includes along the Menomonee River, which runs parallel to I-94 before turning south and crossing beneath the highway at Valley Park. The Wisconsin Department of Natural Resources lists the river as "impaired" due to its high levels of phosphorus, E. coli, polychlorinated biphenyls and other issues.
The district saw more than 2.1 billion gallons of wastewater discharged in 2020 alone, data show. And a single overflow in 2022 released 750 million gallons of untreated wastewater into local waters. But those volumes remain far below the billions of annual gallons discharged in past decades, including when residents of The Valley and surrounding neighborhoods faced disastrous flooding.
Peggy Falsetti, 75, has lived in The Valley for 48 years and recalls a time when children would play in standing water as the Menomonee River surged over its banks.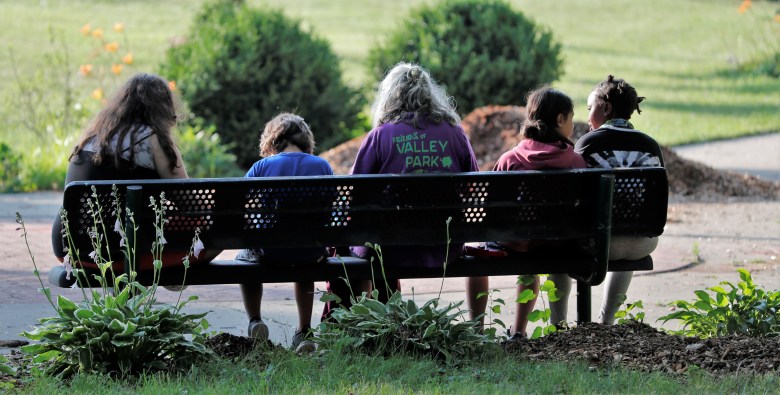 "I remember waking up one morning and the water was all the way up to 39th Street," she said.
After flooding in 1997 and 1998 damaged about 130 homes around The Valley, the sewerage district spent $12 million to build Valley Park. The department constructed a levee and floodwall where the park meets the Menomonee to protect local homes — one of several projects to curb the Menomonee's flooding.
Residents say the Valley Park project has worked to limit runoff. But they worry that widening the highway that looms overhead will reverse some of that progress. No one in the neighborhood will lose their home to the I-94 widening, but the roadway will grow closer to where residents live and play.
Neighborhood concerns about the project stretch beyond flooding.
While taking a break from guiding neighborhood children through their park upkeep duties, Valley Park's volunteer master naturalist, Ann Bowe, worried about how the expansion will affect the health of local children. Living near highways — and pollution from cars — can worsen heart and lung disease in kids and teens, according to the American Lung Association.
"It's bad enough that we have the freeways that we have here," Bowe said, gesturing to the road. "But why are we going to spend, what, five years probably building more?"